Bitcoin blasted through the US $13,000 ($18,250) level this week for only the third time since the all-time high. It also saw its sixth-highest weekly close ever. This week will be critical for Bitcoin as it's never held at these levels for long. With US stock markets falling on Monday on worsening infection numbers and concerns over the delayed stimulus, there are headwinds, however sentiment is extremely strong. The Fear and Greed Index is at 75 or 'Greed' and Bitcoin is once again getting coverage in the mainstream media. BTC finishes the week up 11.3% and is above $18,400 at the time of writing. Almost everything else is up including Ethereum (3.9%), Bitcoin Cash (3.7%), Chainlink (8.2%), Litecoin (17.9%), Bitcoin SV (8.2%), EOS (1.5%). XRP was flat however and Stellar lost 4.7%.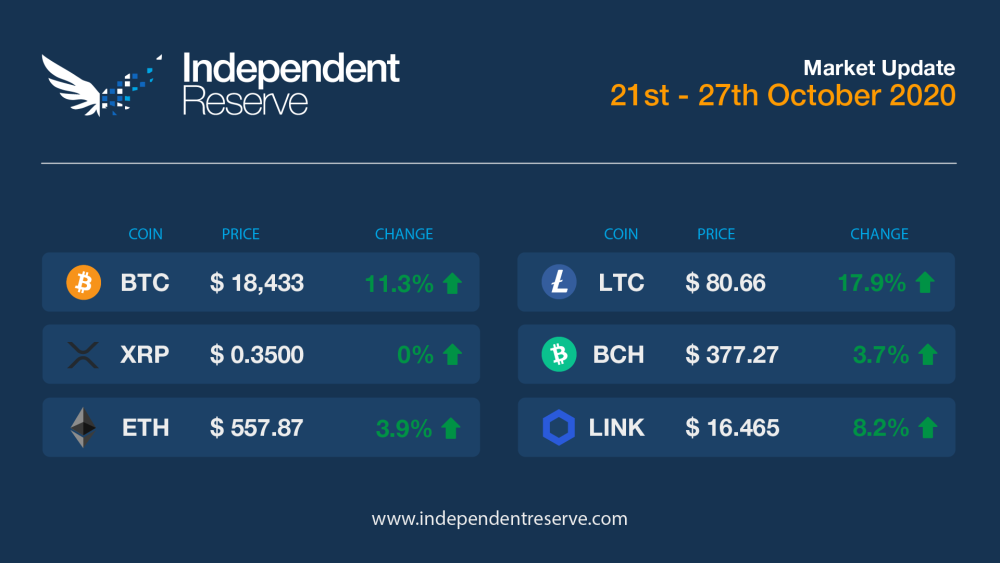 In Headlines
Paypal launches crypto
Arguably the biggest crypto story of the years so far is the news that PayPal will support Bitcoin, Ethereum, Litecoin and Bitcoin Cash in 2021. Around 346 million users will be able to buy and sell crypto, or use it for payments, at the touch of a button, and without any knowledge of wallets or private keys (though they won't be able to withdraw initially). Billionaire Mike Novogratz called it "the shot heard around the world on Wall Street." Around 14% of PayPal users already own crypto, with another 15% planning on buying some in the next 12 months according to Forbes. PayPal is also eying a bunch of crypto acquisitions including BitGo, and Coinshares CSO Meltem Dimirors told CNBC that she believes PayPal is likely to launch its own cryptocurrency in 2021.
Bullish moves
The PayPal news had some flow-on effects. Grayscale added $421 million in assets under management in a single day and jumped $1.4B in the space of a week to $10.25 billion. The TVL of funds locked in DeFi surged $1.4B in 48 hours to hit a record high over $17.5B (US $12.44B) before falling back to its current $15.8B, likely related to the Harvest protocol exploit that saw it drained of $35 million. According to Glassnode, the number of whales holding more than 1,000 BTC hit 1,939, the highest since September 2016. Veteran trader Peter Brandt is bullish: "If the current gains hold through end of Oct — it's poised for the second-highest monthly close ever. Institutions are increasingly involved in Bitcoin ownership. Institutions mark the value of their assets monthly."
Funds under management for Grayscale.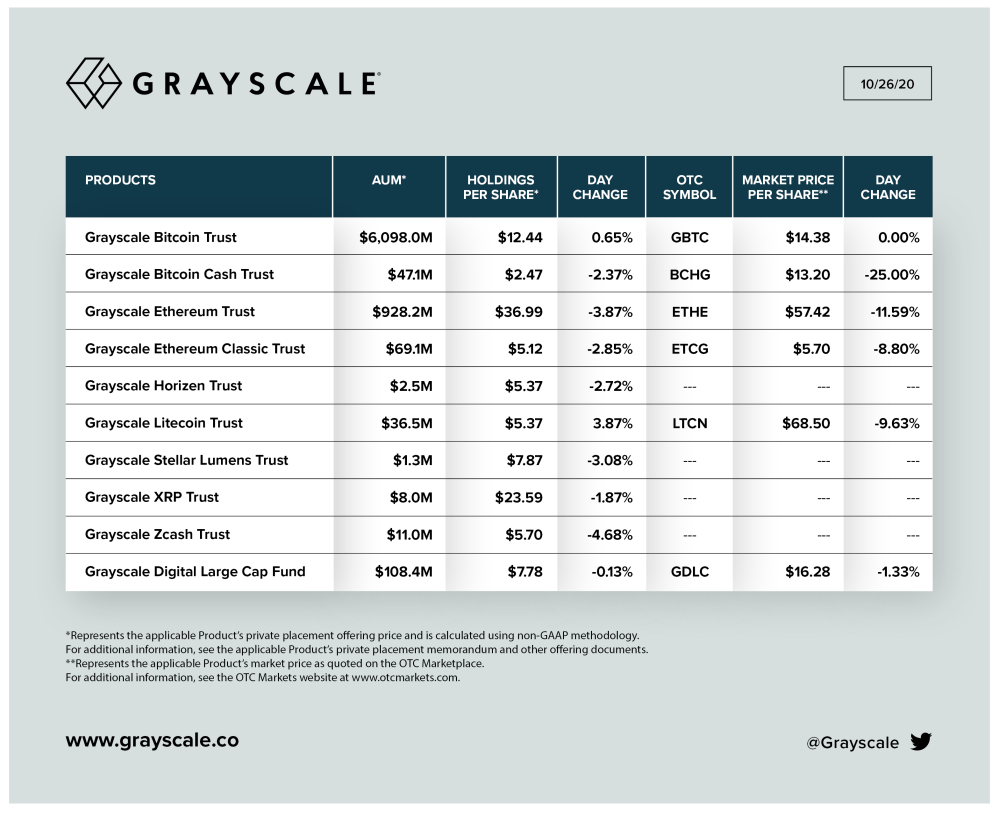 Active wallets near ATH
Active wallet addresses on the Bitcoin network have reached their highest level since December 9 2017 – a couple of weeks before the all-time high. A spokesperson for crypto index CF Benchmarks said the bump in wallet activity was bullish. "Against the backdrop of PayPal's announcement this week, it makes a lot of sense that interest in Bitcoin is once again intensifying to heights not seen since late 2017.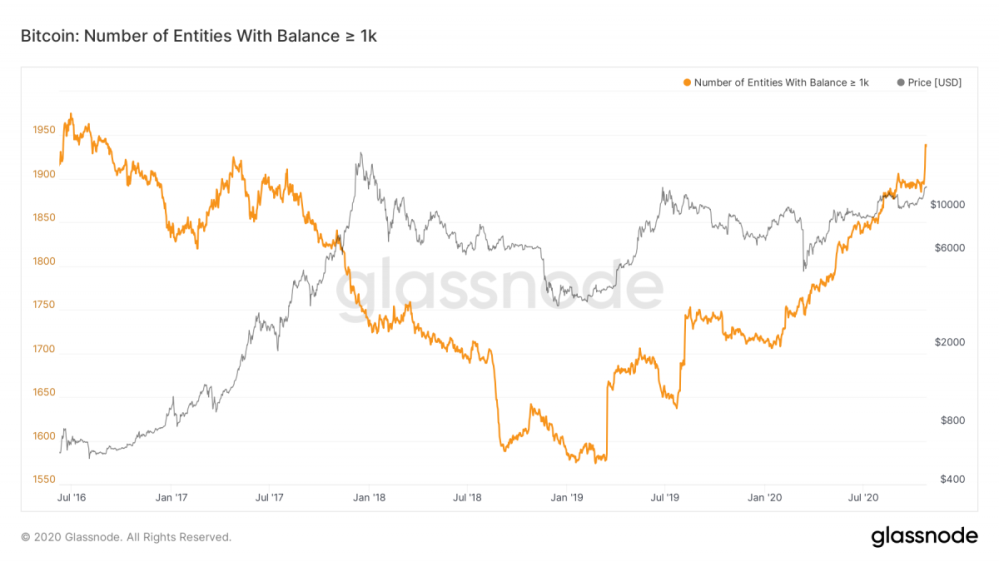 Bitcoin moves
The biggest Bitcoin transaction in history happened a few hours ago when someone sent two transactions of 45,671 Bitcoin and 43,185 Bitcoin from a Xapo wallet, totalling 88,857 Bitcoin $1.633 billion for around $5 in fees. Decrypt says an individual is unlikely to find any bank willing to move that kind of money, but if you did wire it, it would cost a minimum of $165K.
Hash rate drop
The Bitcoin hash rate saw a sharp fall overnight from 151 EH/s to 116 EH/S. While the hash rate is an estimate and can bounce around, Thomas Heller of HASHR8 attributes it to the end of the rainy season in Sichuan, meaning miners can no longer profit from cheap hydroelectricity. He believes some miners are offline while they head back to their home bases in Xinjiang in Inner Mongolia and other regions. If the drop is sustained, Bitcoin mining difficulty could drop 10 percent at the next adjustment at the end of this week.
A new mode for Bitcoin
Mode, a London Stock Exchange-listed Bitcoin banking app, bought $1.4 million worth of Bitcoin, equating to 10% of its cash reserves. It's the first British company to do so, and follows in the footsteps of Square and MicroStrategy. Mode's founder Jonathan Rowland may have actually given Square's Jack Dorsey the idea: "We met with Jack Dorsey and spoke to him about adding bitcoin to treasury assets last year," said Rowland. In addition Bill Barhydt, CEO of peer to peer payments platform Abra has bumped up his portfolio allocation of BTC to 50%.
Ethereum and Bitcoin will top $1 trillion
According to crypto data aggregator Messari, the Ethereum network now processes more than twice the daily transaction volume of Bitcoin (BTC) and is on track to top $1.4 trillion this year. BTC is tipped to hit its second-strongest year after 2018 with $1.12 trillion. The DeFi boom and growth of stablecoins has given Ethereum the edge over Bitcoin for the first time ever – its previous best year saw it process 59% as much as Bitcoin.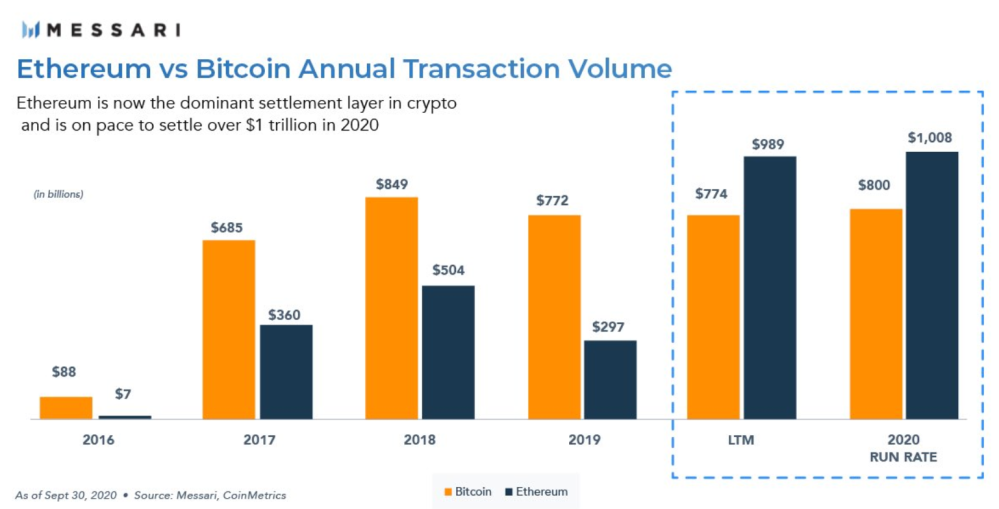 Double or triple the price
A new report by JP Morgan suggests investors are increasingly looking at Bitcoin as a store of value instead of gold. "Even a modest crowding out of gold as an 'alternative' currency over the longer term would imply doubling or tripling of the bitcoin price," the report noted. Bitcoin billionaire Tyler Winklevoss this week doubled down on the twins' price prediction: "The question in our mind is not so much does it get to $500,000, but how quickly," he said.  
Until next week, Happy Trading!